It is my pleasure to welcome you to Furqaan Academy for grades Pre-K to 12th. For over 14 years, our school has been committed to answering a fundamental question: "What matters most when educating your child/children at Furqaan?"

Continually refining our answer to that question has helped us to grow and evolve with purpose and passion. Both are visible everywhere when you visit our campus or see our program in action, which is, focus on memorizing the Quran and our integrated Hifz program for our young children, along with full time academic school for all.

We have the freedom to develop a modern and remarkable curriculum that is not only exceptional academically, but also Islamically. Furqaan responds to what the world needs now more than ever – respect, discipline, compassion, generosity, grace, intention, justice, and hope. As a result, our students enjoy the experience, are confident and competent. Also, they recognize a world beyond their own needs.

Our school culture demands that our students, teachers, and families be ever mindful of their role in setting and reaching goals. Our students and teachers pose questions and ideas that provoke and inspire deep understanding and tangible growth.

We will continue to focus on our every student, in every classroom, and everyday approach to ensure that all Furqaan Academy students have the world-class education they deserve Islamically and academically.

Please join Furqaan!

Respectfully,
Ms. Nazia M. Jalali, M.Ed.
Principal
Furqaan Academy Bolingbrook, founded in 2008, is a Pre-K – 12th Full-Time Islamic School with Integrated and Full-Time Hifdh. Our vision is to raise good Muslim citizens who are strong in faith, well-grounded in the Quranic knowledge, and have a strong foundation in academics.
Furqaan Academy is the manifestation of the founder's, Wajahat Sayeed of Al-Furqaan Foundation, vision to develop students who are grounded in the Quran – a Quranic generation. As an organization devoted to the service of the Quran in the west, the Foundation wants to ensure that the upcoming generations will come closer to the Quran by understanding its language and by proper training of implementing the Quran and Sunnah in their daily lives. The choice of being a Muslim should be a natural choice, due to their understanding of the deen and not merely as a virtue of being born in the faith.
Following the success of the first school in Bolingbrook, IL, Br. Wajahat Sayeed (Founder and President of Al-Furqaan Foundation) launched Online branch in 2022.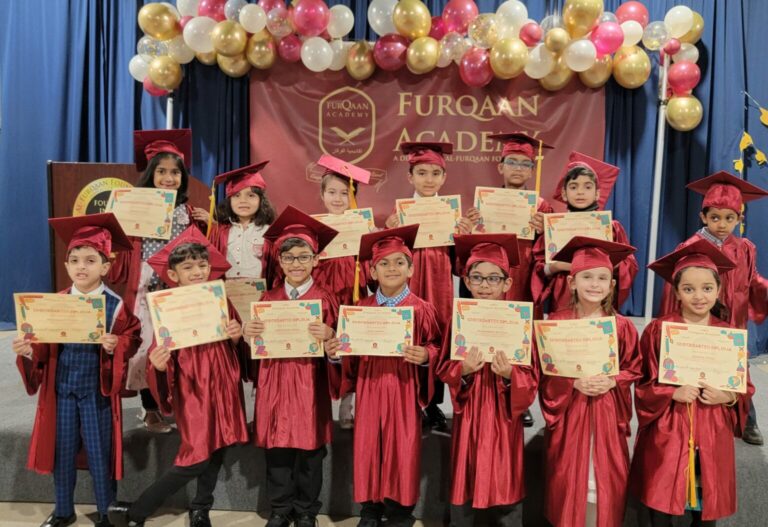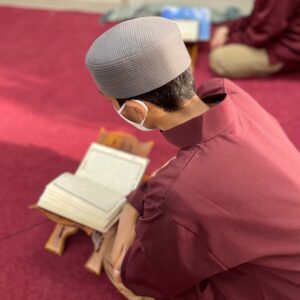 Furqaan Academy Bolingbrook, with its pioneering curriculum, aims to create and empower generations of students who are confident of their Muslim identity in America and are able to pursue and excel in any field.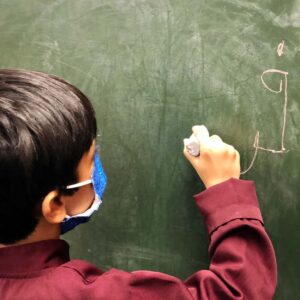 To provide a balanced Pre-K to 12th grade education that combines both revealed and acquired knowledge by integrating a Quran centered Islamic education program with a comprehensive State education program.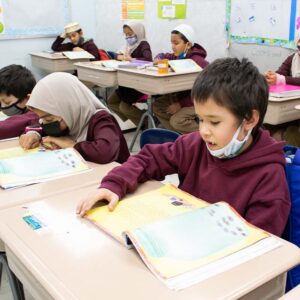 With our Quran-based curriculum, we study the wonders of God's creation, build character, and inspire the soul. Upon the successful completion of 12th grade, Insha'Allah students will have completed the following.
Sr. Nazia, I cannot thank you enough for all you have done as school Principal. Your vision, wisdom and passion for this school, staff and students can be seen everyday! I want to thank you for all your efforts that you take for the betterment of the students at the school are worth appreciation. Thank you for your help and support in providing my child, Ibrahim, the highest level of Islamic education. Thanks to your encouragement and support. Thanks for being such a great blessing! Alhumdulillah! JazakAllah 
So far my son has been going to Furqaan Academy for 2 years (Pre-K and KG). He loves going to school everyday. Over the year they have made improvements to the facility and their administration. I am completely content with how the school is run. My interactions with every staff member have been pleasant. They are nice and accommodating and most of all they love the children. In this day and age, I think this is the best investment we can make for our youth by giving them a strong Islamic foundation. My son has learned a lot and is memorizing short Surahs and enjoys reciting. Their balance between Islamic studies and the rest of the subjects for these young grades is good and I look forward to what my son learns next.
Masha Allah an excellent Islamic education institution for parents who want their kids to prioritize a Quran centric Islamic education immersed in learning the Arabic language that will help students love the Quran through understanding and memorizing of it, without compromising academics needed for higher education. The teachers are experienced in their field and are dedicated to the teaching institution and the student's education. There is always room to improve at Furqan like other Islamic schools but so far we have been very satisfied with the achievements of our kids Alhamdulillah.The kids love going to Furqan. Thank you Furqan!
My daughter is attending Furqaan Academy for 3 months now. She is in Pre-K and absolutely loves her school and teachers. She has learned so much in a short amount of time. They have a great curriculum and the teachers and staff are very friendly and amazing.
My daughter's been going to Furqaan Academy since the past 3 years and I am very content with the Quranic and Arabic education she has received. She loves coming here everyday. Her teachers are friendly and cooperative. The Management is good and always striving to achieve the best for its school and students. The newly built classrooms are a must see!
We are very happy with our decision to send our young children to Furqaan Academy. The community is very friendly and welcoming. We appreciate the balance and focus of Islamic education/Arabic/Quran and traditional secular subjects. Our children have learned so much in just the first half of the year (reading, math, Arabic vocab, surahs from the Quran), and they love going to school. We also appreciate the dedicated and thoughtful principal and teachers very much--who go above and beyond for a small school. One teacher is raising funds for a smart board to build more technology and learning in the curriculum. The new principal is very organized and has several important initiatives that we look forward to (adding a playground, building a healthy student body physically, socially and emotionally, having parents more involved in children's learning and development). Alhumdullilah we are blessed to have Furqaan Academy and encourage the wider community to support Islamic schools for the betterment of our children's future in sha Allah.
A child's education and tarbiyah starts at home. After home, as the child continues on to school, the environment that a child has is equally as important. Seven to eight hours of my children's waking hours will be spent in school. Allah has blessed us with Furqaan Academy, which has provided my children with an Islamic environment that I feel is an extension of our home. I am eternally grateful to all the teachers and staff at Furqaan Academy who are helping shape my children into good, sound, and well-educated Muslimahs. Thank you!
Furqaan Academy is a school where the teachers really care about their students. I am especially thankful for the principal, Mrs. Haiat Bousmaha. Her years of experience and dedication to the children are just what this school needs to continue to grow and excel. It is comforting for us to know that she feels proud to be a Muslim and is developing friendships with other Muslim children who share our values. This is a gift from Furqaan Academy to my family. My daughter loves it because "Everyday I get to learn something new. All the classes are my favorite." Thank you, Furqaan Academy for welcoming us into your family.
My kids joined Furqaan Academy in its first year after transferring from another Islamic School. With all respects for other Islamic Schools in the Chicago-land area, I have found Furqaan Academy the most dedicated in regards to teaching the Arabic language, Quraan memorization, and Islamic knowledge alongside their outstanding performance in the other subjects. I have third and fourth grader, they can read from any Surah without help. Alhamdulillah, they can read and write arabic very well.
TOP TEN REASONS REASONS TO JOIN FURQAAN ACADEMY?
Our program integrates Hifdh of Quran (2 hrs/day) with Arabic language, Islamic Studies and standard state curriculum (Pre-K – 7th grade).
Our program integrates an Alim/Scholar preparatory program along with a standard state curriculum (8th – 12th grade).
Our programs focus beyond Quran memorization, it focuses on understanding the Quran and implementing it into our students' daily lives, therefore Arabic and Islamic Studies are taught daily from Pre-K – 12th grade.
Our program incorporates tarbiya to teach our students proper Islamic adaab (manners) and akhlaq (etiquettes).
Our program is balanced in its emphasis on "DEEN" and "DUNYA" education.
We believe our students will not only master traditional Islamic sciences but will excel in any field of study including medicine, science or technology, Insha'Allah.
Nurturing a Sense of Belonging
We believe in nurturing a sense of community and belonging in our students not only in the Muslim Community but as contributing members of the broader American community through dawah, civic engagement and advocacy.
No Muslim Child Left Behind
We believe in a "No Muslim Child Left Behind" policy and strive to make this opportunity affordable for all Muslims.
We believe in providing a safe and socially Islamic environment for your child.
We believe our students will be leaders and scholars and model Muslims to lead this Ummah and our society at large, Insha'Allah.
A Highly Qualified and Encouraging Staff
Teachers focus on memorization of Quran with an emphasis on makharij (pronunciation) and tajweed (rules of recitation) and at a pace custom to each student.
Deeper Understanding of the Quran
Students will take courses in Quranic Arabic to develop their understanding of the Quran.
Upon completion of the Quran, the student is required to recite the Quran in its entirety in one day ensuring impeccable memorization and retention as a final exam.
Upon completion of the Hifdh program, students are placed in a program where they will be readmitted in their current academic school year within Furqaan Academy.
Developing Tomorrow's Leaders
Students are trained to lead Salah, deliver Friday Khutbahs, lead Taraweeh, deliver motivational speeches, teach Quran to others, and deliver Halaqahs – all of which we hope will inspire a generation of ideal Muslims and Muslimahs, Insha'Allah.
5-person Quran Department
Students are provided with a proper structure with the head of department, two male teachers and two female teachers ensuring that each student receives proper attention.
A Gender Separate Atmosphere
There are separate classrooms for female and male Hifdh students.
Structured Classrooms and School Environment
Our administrative team works throughout the year ensuring schedules, classroom procedures, and academic curriculum are all structured to guarantee a smooth and successful academic year.
An Accredited and Recognized School
Furqaan Academy is accredited by COGNIA, formerly known as AdvancED, and is fully recognized by the Illinois State Board of Education.
A Holistic Educational Institution
Students will not only memorize the Quran in its entirety with great retention but will also have opportunities for developing character, a confident Islamic identity, ability to translate the Quran, dawah skills and much more, Insha'Allah.